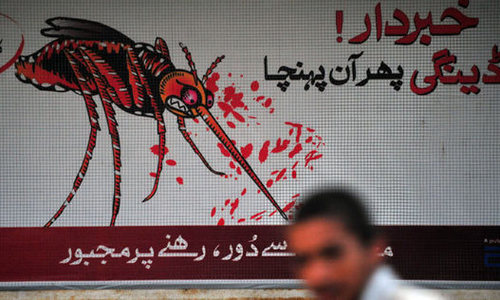 The Guardian
Tilapia fish in frontline of Pakistan's fight against Dengue virus
The Guardian
A poster in Pakistan warning against the deadly tropical disease dengue fever. Photograph: Farooq Naeem/AFP/Getty Images.
Stephen Pond's insight:
Tilapia are a favourite of aquaponics gardens since they are hardy, grow quickly and are good eating. They are also against the law in quite a few places in North America because they are so adaptive they can invade native habitats and take over.
But North America does not have to worry too much about the devastating disease Dengue Fever.   When the choice between suffering an increasing incidence of the disease and letting voracious tilapia control the population of the mosquitoes that cause it, the worry about overcoming native populations becomes minimal.
So the tilapia has become an effective weapon in controlling disease, down from 20000 incidences to 100 in the region where the tilapia weapon is being liberally employed.   If they have to breed that many, maybe some of them will be used to grow food before they are deployed in the pools and puddles to eat mosquito larvae and reduce the mosquito population to endangered.
See on www.theguardian.com