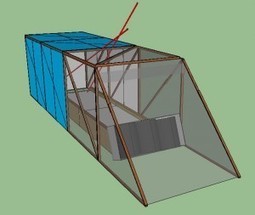 Now that I'm dealing with agriculture and aquaculture extension people and the USDA Sustainable Agriculture Research & Education program, I've decided to remove "Lunatic Farmer" from my article titles.
Stephen Pond's insight:
This is a long and involved post that thinks out loud about a way to utilize an existing commercial greenhouse in a cool or cold area. This would be during the off months when it is not used to produce the flowers and plants we use to decorate our homes and start the vegetables for the gardens in cooler climates.
The concept is to rent space in the greenhouse for people to build and use aquaponic systems to grow organic vegetables in an 8 month period.  They would be using trout from eggs to pan size in that period and be dismantled in time for standard greenhouse production.
The concept might just work, although if a greenhouse operator see that there is a way to utilize his investment in a profitable way during the downtime, the aquaponics might just become full time, who knows.
The ideas have potential, but they do need actual real life experience to really know.
See on www.wrongwayhome.com